The violet is one of the emblems of the city of Toulouse. It's natural to want to bring back a violet-scented souvenir!
The violet is one of the most popular edible flowers, and that long before nasturtiums or pansies became fashionable on our plates. Violet flowers have been crystallized for baking since the 17th century!
Violet, the star of Toulouse
In 1950, Marianne d'Horphin created the first costume for the Toulouse doll of La Marchande de Violettes. Her granddaughter, Kathia Magron of Les Poupées d'Horphin makes several violet-based products available at our boutique: sweets, crystallised violet flowers, soaps, eau de toilette, crème, syrup, mustard, crystallised sugar, and more.
On sale at our boutique
Eau de toilette, 50ml : €11,80
The perfume is used differently depending on the time of day, according to the mood of the moment or according to our desires. Why not delicately spray your fine lingerie, your dressing room. For sweet nights, scent your pillow. Spray your comb, your hairbrush or your scarf.
Cocktail idea: Sparkling Violet: 2 cl of Violet Liqueur, 8 cl of Champagne, 2 or 3 Crystalized Violets.
Whole crystallised violet flowers : €8,80
To arrive at Crystallized Violet Flowers, many steps are necessary.
Once washed, the violets are sprinkled with gum arabic (acacia resin). Sweetened, the violets are sifted, then dried between 60 and 100 degrees for several days. It will then be necessary to remove the excess sugar and put them in "candissoirs". The famous crystallized flowers can then be placed on cakes, eaten as simple treats or in a glass of Champagne.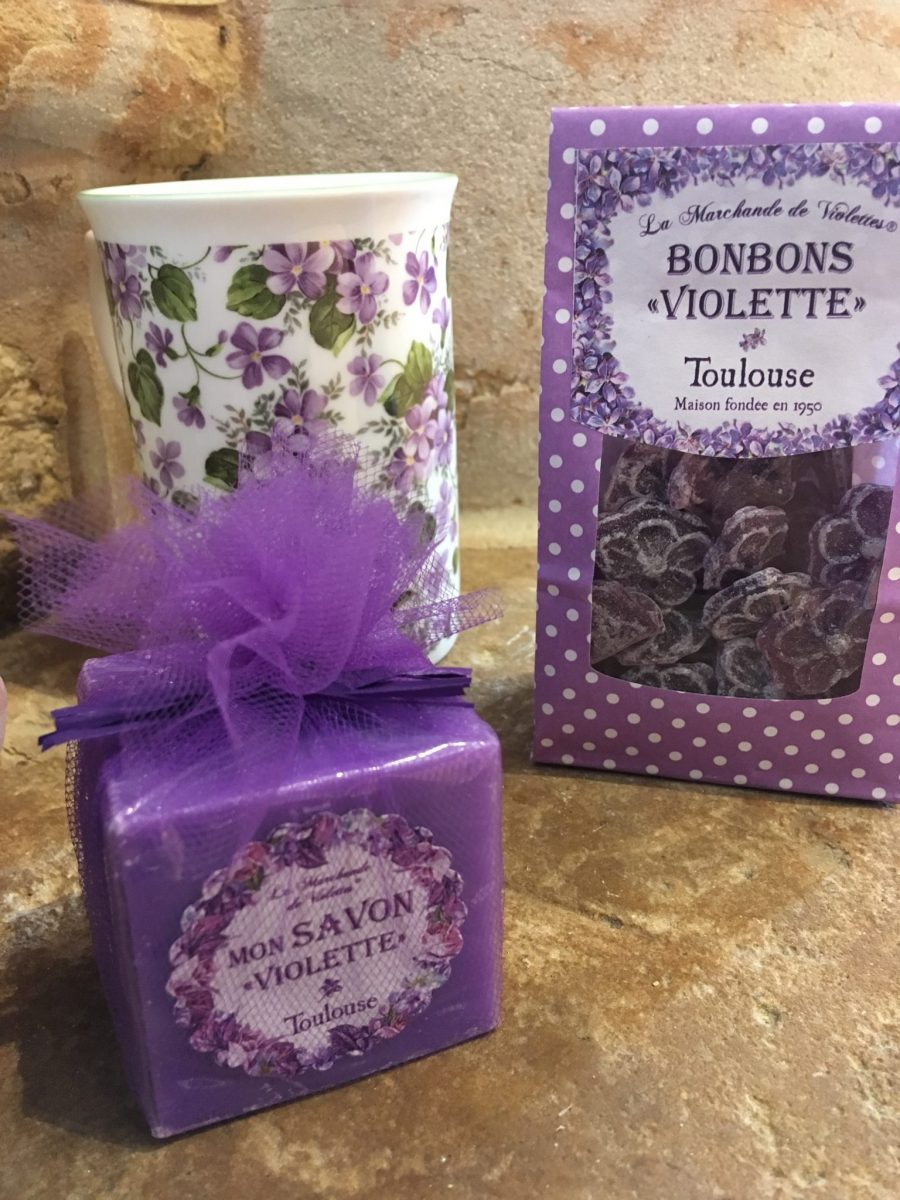 Contact
Shop in Saint-Gaudens, 2 rue Thiers
Shop in Montréjeau, 6 rue du Barry